Hello Adventure Seekers!
 The book I chose to review today is RoseBlood by A.G. Howard. This is a retelling of Phantom of the Opera, but it takes it a little further than the original story. In true A.G. fashion, she takes a tell that is beloved by many, and turns it into a new adventure that will have you loving the story even more. In my opinion, I always wanted the Phantom and Christine to be together, and no matter how many times I watch the movie, and know how it ends, it doesn't make me stop wishing it would change.
The description from Goodreads is as follows:
 "In this modern day spin on Leroux's gothic tale of unrequited love turned to madness, seventeen-year-old Rune Germain has a mysterious affliction linked to her operatic talent, and a horrifying mistake she's trying to hide. Hoping creative direction will help her, Rune's mother sends her to a French arts conservatory for her senior year, located in an opera house rumored to have ties to The Phantom of the Opera.
At RoseBlood, Rune secretly befriends the masked Thorn—an elusive violinist who not only guides her musical transformation through dreams that seem more real than reality itself, but somehow knows who she is behind her own masks. As the two discover an otherworldly connection and a soul-deep romance blossoms, Thorn's dark agenda comes to light and he's forced to make a deadly choice: lead Rune to her destruction, or face the wrath of the phantom who has haunted the opera house for a century, and is the only father he's ever known."
Rune is like a modern day Christine, and Thorn a modern day Phantom. Their story is so touching, filled with mystery, lies, and betrayal. This story will keep you in the dark and guessing until the very last page. Rune is a strong heroine in her own way, and Thorn is hot as all get out with problems of his own. Rune and Thorn have to overcome their pasts, but will it lead them to each other or down darker paths. I was so excited when I heard this book was coming out because I love the Phantom of the Opera so so much! It had me wanting to watch the movie over again, although we all know Christine chooses the wrong man in the end.
While reading this book you are transported into the world of the Phantom or what used to be his world in France. The descriptions in this book will have you imagining the scenery in your head, and will make you want to visit France to see if these images are true for yourself. The Phantom of the Opera has always led readers on a strange adventure, and RoseBlood will not leave you disappointed!
Fall in love with the Phantom all over again with this amazing story! Plus the cover is beautiful, if you need anymore convincing to read it!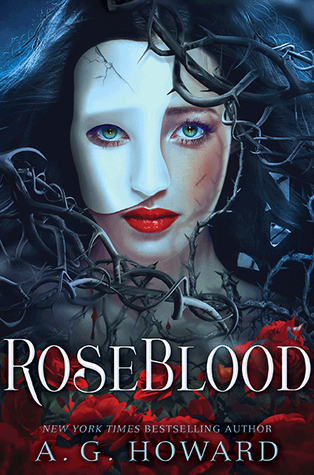 Book image taken from Goodreads website.