Hey Guys!
  Today I am going to be reviewing Sky in the Deep by Adrienne Young. This novel is about one girl's revenge against the people who took her brother, and her journey to discover the truth.
The description came from Goodreads website:
 "Raised to be a warrior, seventeen-year-old Eelyn fights alongside her Aska clansmen in an ancient rivalry against the Riki clan. Her life is brutal but simple: fight and survive. Until the day she sees the impossible on the battlefield—her brother, fighting with the enemy—the brother she watched die five years ago.
Faced with her brother's betrayal, she must survive the winter in the mountains with the Riki, in a village where every neighbor is an enemy, every battle scar possibly one she delivered. But when the Riki village is raided by a ruthless clan thought to be a legend, Eelyn is even more desperate to get back to her beloved family.
She is given no choice but to trust Fiske, her brother's friend, who sees her as a threat. They must do the impossible: unite the clans to fight together, or risk being slaughtered one by one. Driven by a love for her clan and her growing love for Fiske, Eelyn must confront her own definition of loyalty and family while daring to put her faith in the people she's spent her life hating."
Eelyn isn't your normal seventeen year old, she is a warrior who isn't afraid to takes someones life to protect her own, and her family. When in the midst of battle, she sees her brother fighting on the side of the enemy, Eelyn knows that she needs to get down to the bottom of what is going on. She sets out on a journey by herself to bring her brother back home. They hold her captive in enemy territory, until one day the village is attacked, and she knows in order for them to survive she has to bring the clans together. Along the way, she will find truth, understanding, love, and justice.
What I really loved about Eelyn is that she is a fierce warrior, who can save herself, and doesn't rely on a man to save her. We need to see strong female characters, who are so life like that we can identify with them and see the strength within ourselves. The descriptive words in this book will make the scenes come to life in the readers minds and you will feel like you are experiencing everything right along with Eelyn. I will warn all readers, there are some descriptive scenes in this book with violence, and gore, but it isn't overdone and actually makes the story that more interesting.
Good journey my friends!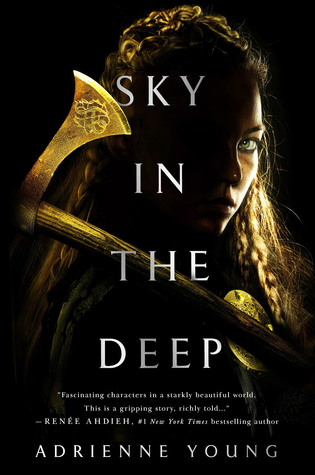 Image taken from the Goodreads website.