Happy Monday Guys!
  I hope everyone had a good weekend, I know mine was busy getting everything down for the end of my semester. I wanted to review a book that I love so, so much! Splintered by A.G. Howard, is a retake on Alice in Wonderland, with a dark twist, and a sexy guy named Morpheus, who ended up on my hot literary guys list last week.
The description was taken from the Goodreads website:
 "Alyssa Gardner hears the whispers of bugs and flowers—precisely the affliction that landed her mother in a mental hospital years before. This family curse stretches back to her ancestor Alice Liddell, the real-life inspiration for Lewis Carroll's Alice's Adventures in Wonderland. Alyssa might be crazy, but she manages to keep it together. For now.
When her mother's mental health takes a turn for the worse, Alyssa learns that what she thought was fiction is based in terrifying reality. The real Wonderland is a place far darker and more twisted than Lewis Carroll ever let on. There, Alyssa must pass a series of tests, including draining an ocean of Alice's tears, waking the slumbering tea party, and subduing a vicious bandersnatch, to fix Alice's mistakes and save her family. She must also decide whom to trust: Jeb, her gorgeous best friend and secret crush, or the sexy but suspicious Morpheus, her guide through Wonderland, who may have dark motives of his own."
Alyssa is just your run of the mill ordinary girl, except she hears flowers and bugs talking to her. She thinks she is going crazy and tries to chalk it up as to hearing things. When her mother starts slipping further away from reality, Alyssa meets Morpheus, who helps Alyssa realize that everything her mother was telling her was probably true. Take into account this mysterious man, and her crush on her best friend Jeb, and you got one love triangle on your hands. As Alyssa journeys through Wonderland, the reader is taken on an action packed adventure with her, and you will see all your favorite scenes from Wonderland, and a few more that take the story into a whole new world.
A.G. Howard has a talent for making sexy male characters, Morpheus will always be my favorite, although Jeb doesn't sound too bad, and taking the reader through a magical journey. She has the ability to pull the reader into the story, where you will experience all the wonder that Alyssa is experiencing, and you will feel like you are walking and dancing in Wonderland right along with her. If you love Alice in Wonderland or just love retellings that don't take away from the classic story, than you don't need to miss out on this once in a lifetime adventure. Also, this is book one of a trilogy, and all I have to say is the adventure just keeps getting better and better!
Have a tea party with Morpheus down in Wonderland fellow readers!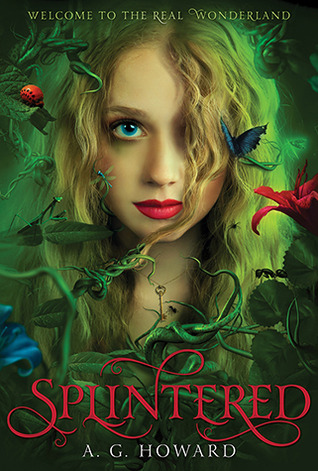 Image taken from the Goodreads website.