Happy Monday Readers!
  I hope you all had a wonderful, relaxing weekend! Today I am going to be reviewing a book, that I absolutely loved. The Darkest Star by Jennifer L. Armentrout is the first book in her new Origin series, and let me tell you it's a good start!
The book description comes from the Goodreads website:
 "When seventeen-year-old Evie Dasher is caught up in a raid at a notorious club known as one of the few places where humans and the surviving Luxen can mingle freely, she meets Luc, an unnaturally beautiful guy she initially assumes is a Luxen…but he is in fact something much more powerful. Her growing attraction for Luc will lead her deeper and deeper into a world she'd only heard about, a world where everything she thought she knew will be turned on its head…
#1 New York Times, USA Today, and internationally bestselling author Jennifer L. Armentrout returns to the universe of the Lux in this brand new series, featuring beloved characters both new and old."
Evie Dasher is just a girl trying to survive the world, and get through High School. When she goes to a club where aliens are known to frequent, she meets Luc, who will test her patience. When she stumbles upon Luc she begins a wild journey where the truth will send the world she thought she knew down a spiraling rabbit hole. Once Evie learns the truth, she will have to learn if she can embrace the truth or if she wants to live in denial.
This book brings characters from her previous series into the story, however you don't have to have read the previous series to understand what is going on in this book. I didn't read the previous series, and while I was reading The Darkest Star I wasn't lost as to what was going on. Jennifer provides the reader with a detailed background as to what happened, so that you can feel confident reading this book without reading the previous series. This book had me interested from the first sentence, and kept my attention until the very end. This book will make you laugh, cry, and want to punch Luc a couple of times. When the twists and bombs drop, I guarantee you won't see them coming until Jennifer wants you to!
If you like adventure, comedy, sexy aliens, and a female character who learns who she really is, then this book is for you. It made me want to read the other series, so I can see if Luc was a butt butt in that one too. But trust me, Luc is a butt butt in this one, but there is a reason behind it, and he is actually a sweet guy! I can't wait for the second book to come out to see where Evie and Luc go next!
Happy alien adventures my fellow readers!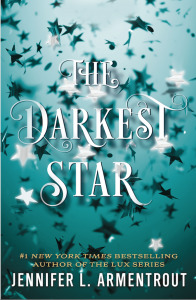 Image taken from Goodreads website.