Happy Friday Everyone!
So today I am going to be reviewing a book where there is a competition for status, and for a crown. The Selection by Kiera Cass, is a story about one girls journey to figure out the truth, and to figure out just exactly what she wants out of life.
The book description came from the Goodreads website:
"For thirty-five girls, the Selection is the chance of a lifetime. The opportunity to escape the life laid out for them since birth. To be swept up in a world of glittering gowns and priceless jewels. To live in a palace and compete for the heart of gorgeous Prince Maxon.
But for America Singer, being Selected is a nightmare. It means turning her back on her secret love with Aspen, who is a caste below her. Leaving her home to enter a fierce competition for a crown she doesn't want. Living in a palace that is constantly threatened by violent rebel attacks.
Then America meets Prince Maxon. Gradually, she starts to question all the plans she's made for herself—and realizes that the life she's always dreamed of may not compare to a future she never imagined."
America Singer has her life all planned out. She is going to marry her secret love Aspen, and they will live happily ever after. However, America soon learns that her dreams are in danger of not coming true, when she is picked as one of the 35 girls, who will compete to win the hand of Prince Maxon, and become royalty. America doesn't want to have anything to do with this competition, but knows if she backs out her family will be ashamed. She decides to go ahead with the competition, and do everything she can not to win. However, when she meets Prince Maxon, and starts to get to know him, America starts to question just what she really wants in life.
Kiera Cass takes the reader into an amazing world with glitz, glamour, and one girls journey to find out where she belongs in life. The reader is sucked into this amazing world, where caste systems are in place, and their are competitions for love. This book will have you laughing, crying, and rooting for America to find her own happiness.
Go beat the competition my loves!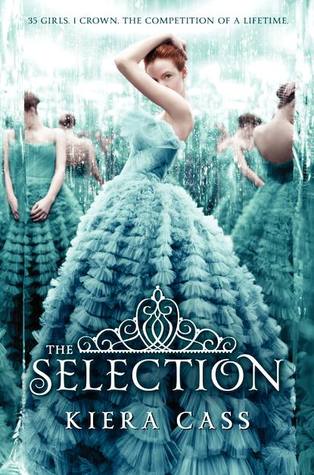 Image taken from the Goodreads website.