Happy Wednesday!
So in an earlier blog post, where I did a list of books turned into TV shows/Movies, I mentioned my new obsession with the TV show A Discovery of Witches. I was thinking about this post, and realized that I haven't done a review of the book that the TV show is based off of. So, I decided that my post today I would review the book. A Discovery of Witches by Deborah Harkness, has it all. It has magic, vampires, witches, demons, other supernatural creatures, and of course a forbidden love story.
The description was taken from the Goodreads website:
"Deep in the stacks of Oxford's Bodleian Library, young scholar Diana Bishop unwittingly calls up a bewitched alchemical manuscript in the course of her research. Descended from an old and distinguished line of witches, Diana wants nothing to do with sorcery; so after a furtive glance and a few notes, she banishes the book to the stacks. But her discovery sets a fantastical underworld stirring, and a horde of daemons, witches, and vampires soon descends upon the library. Diana has stumbled upon a coveted treasure lost for centuries-and she is the only creature who can break its spell."
Diana doesn't want to have anything to do with magic, and just wants to finish her research paper. However, when you are a powerful witch your powers have a way of coming out even if you don't want them to. When she calls fourth a book from the library that everyone has been searching for, she suddenly finds herself an interesting topic to a lot of creatures, including a vampire named Matthew Clairmont. With the help of Matthew, Diana goes on a journey to figure out just who exactly she is, and if her parents really died in an accident. This book will leave you on the edge of your seat, until the very end. Which of course it ends on a cliff hanger, however the other two books in the series is out, so all you have to do is get the next two books to see how this journey ends!
Deborah brings the reader into a world where magic and other world creatures exist together, although it is not in harmony. The reader is transported into the story, and you get to share the journey along with the characters. You will laugh, cry, scream, and possibly throw the book in frustration, which I did but than immediately regretted it and apologized to the book, until the very end!
Solve the mystery and find your inner magic my fellow witches!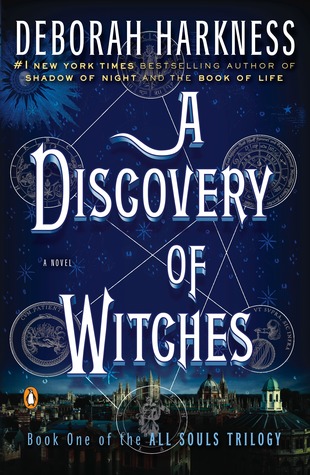 Image taken from the Goodreads website.