Happy Monday Everyone!
I decided that my first review back in the country would be a retelling of "Little Red Riding Hood". Ya'll know that I love reading retelling stories, and this one to me is a very great dark retelling. Crimson Bound by Rosamund Hodge takes the tale of Little Red Riding Hood and turns it into something you never knew you wanted!
The description comes from the Goodreads website:
"When Rachelle was fifteen she was good—apprenticed to her aunt and in training to protect her village from dark magic. But she was also reckless— straying from the forest path in search of a way to free her world from the threat of eternal darkness. After an illicit meeting goes dreadfully wrong, Rachelle is forced to make a terrible choice that binds her to the very evil she had hoped to defeat.
Three years later, Rachelle has given her life to serving the realm, fighting deadly creatures in an effort to atone. When the king orders her to guard his son Armand—the man she hates most—Rachelle forces Armand to help her find the legendary sword that might save their world. As the two become unexpected allies, they uncover far-reaching conspiracies, hidden magic, and a love that may be their undoing. In a palace built on unbelievable wealth and dangerous secrets, can Rachelle discover the truth and stop the fall of endless night?
Inspired by the classic fairy tale Little Red Riding Hood, Crimson Bound is an exhilarating tale of darkness, love, and redemption.
(This is a standalone novel, not part of the Cruel Beauty Universe.)"
What I love about Rosamund's writing is the way she is able to draw the reader into the story, and make you connect to the characters. Rachelle is a strong woman, who can take care of herself, and doesn't need a man to save her. When she is told that she must protect a man that she absolutely hates. However, Rachelle soon learns that everything she thought she knew, is not what it seems. As Rachelle and Armand go further into their journey, they start learning things about each other and actually start to form a friendship that turns into something more. But will the unexpected romance stop Rachelle from ending the darkness or will it give her the strength she needs to succeed.
This story takes the tale of Little Red Riding Hood, and makes it into the best dark retelling you could imagine, without losing the spirit of the classic tale. If you love retellings, fairy tales, and strong female characters than you need to start reading this book!
Have fun visiting your grandmother, and remember ware the red cape my friends!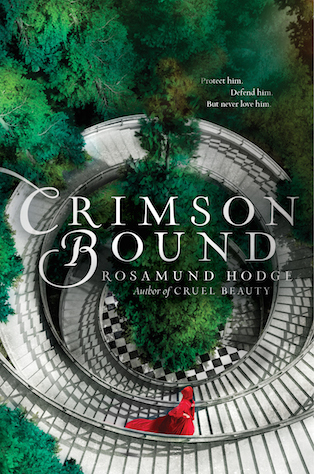 Image taken from the Goodreads website.