Happy Friday Everyone!
I decided to finish the week with a book that will take you on an emotional roller-coaster. Beautiful Disaster by Jamie McGuire, is one of those touching, emotional reads that will make you go through all the emotions! I actually stumbled across this book in an Airport shop, when my flight back from Las Vegas got delayed, and let me tell you I instantly feel in love from the first page.
The book description was taken from the Goodreads website:
"The new Abby Abernathy is a good girl. She doesn't drink or swear, and she has the appropriate number of cardigans in her wardrobe. Abby believes she has enough distance from the darkness of her past, but when she arrives at college with her best friend, her path to a new beginning is quickly challenged by Eastern University's Walking One-Night Stand.
Travis Maddox, lean, cut, and covered in tattoos, is exactly what Abby needs—and wants—to avoid. He spends his nights winning money in a floating fight ring, and his days as the ultimate college campus charmer. Intrigued by Abby's resistance to his appeal, Travis tricks her into his daily life with a simple bet. If he loses, he must remain abstinent for a month. If Abby loses, she must live in Travis's apartment for the same amount of time. Either way, Travis has no idea that he has met his match."
Abby is your average girl next door, who is just trying to find a new beginning in her life. When circumstances push her together with Travis, the typical bad boy, Abby's life will be changed forever. Travis only starts talking to her because of a bet made with his friends. However as Travis spends more time with Abby, he is realizing that he wants to be around her bet or no bet. But when the truth comes out will Abby be able to forgive him or will Travis lose her forever?
What I loved about this book is Jamie's uncanny ability to make the characters seem so real. The way she tells the story will have you experiencing all of Abby's and Travis's emotions. You will laugh, you will cry, you will scream, and you will fall in love with the bad boy. I love it when authors make the reader feel like they are apart of the story, and I love books you can get lost in, which this book has all of that and more. If you want an amazing story to cuddle up with on a cold night, than you need to read Beautiful Disaster, because you will want to stay up late to see how everything ends!
Go fall in love with the bad boy readers!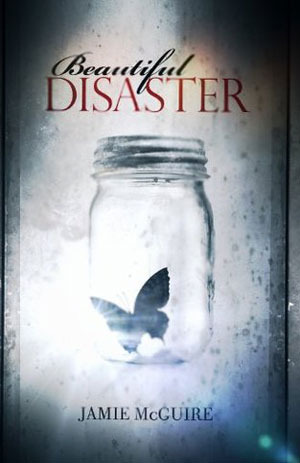 Image taken from the Goodreads website.